That last month has been interesting. As is usually the case, after something very stressful, I fell over in a heap with flu. The annoying sort where one is febrile, knackered and filled with joint pain rather than the snotty manky kind where at least one is so obviously ill that one receives sympathy from all around. The obvious downside to this is that typing has been painful all month, the ridiculous downside is that I have spent many evenings languishing on the sofa with a blanket clutched to my bosom, apparently about to sing a charming aria regarding imminent death from tuberculosis and cold hands. Bloody Puccini.
That's not the only thing that's been keeping me from typing, there's this, too: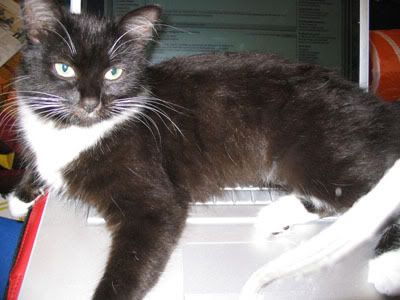 leochi
's cat and Draco drawings have been making me smile of late, but I am still miles behind on commenting on everything. I am also miles behind on reading Worldcup. I think that I am doomed to remain so. I have a few things I wanted to talk about on the commenting palaver, but that involves me having energy enough to do so. Right now, it is time to return to the blanky and the kitties.